Product Overview
Description
Industrial 3G/4G SIM Card wireless router support OpenWRT with GPS/WiFI optional
The H860 series Cellular Router is an OpenWRT version router, which is designed for establish a 2G/3G/4G cellular and WiFi wireless network and share a cellular broad band Internet connection.
The H860 series Cellular Router enables users to quickly create a secure WiFi (802.11 b/g/n) network and provide access to the Internet using a cellular network. By connect to cellular mobile network;
an Internet connection can be accessed and shared virtually anywhere within a wireless broadband network.
NiteRay's mobile data products are widely used in more than 50 countries and regions, and more than twenty industrial fields, such as power control, water schedule, traffic, oil field, weather forecast,
environmental protection, street lamp control, post, bank and many other areas.
>>|
Key Point
Wireless router Support OpenWRT
Built-in 2G/3G/4G industrial cellular module and sim card slot, insert SIM/UIM card to work directly.

Auto-dial feature, keep alive link

Built-in watch dog

1 WAN RJ45 port + 4 LAN RJ45 port

VPN (PPTP, L2TP, IPSec, OpenVPN)

standard SMA antenna can be replaced with high gain type

1 DB9 port for DTU feature (Serial to Cellular Gateway feature,RS23

2

)

WiFi (optional), can choose 54Mbps/150Mbps/300Mbps/450Mhz, can choose 2.4Ghz or 5.8Ghz or 2.4+5.8Ghz

Always online, Reboot if the connection is failed.

I/O port *3 (optional)
>>| 3G/4G wifi router Industrial Application
l Remote Data Monitor and Control
l CCTV, security surveillance
l Water, gas and oil flow metering and schedule
l AMR (automatic meter reading)
l Power station monitoring and control
l Remote POS (point of sale) terminals, ATM,
l Traffic signals monitor and control, Traffic info guidance
l Oil field, weather forecast, environmental protection, street lamp monitoring and control
l Early Warning of Mountain Torrent
l Fleet management
l Power distribution network supervision
l Central heating system supervision
l Weather station data transmission
l Hydrologic data acquisition
l Vending machine
l Telemetry, SCADA
l Vehicle logistics and diagnostics controlling
l Parking meter and Taxi Monitor
l Telecom equipment supervision (Mobile base station, microwave or optical relay station)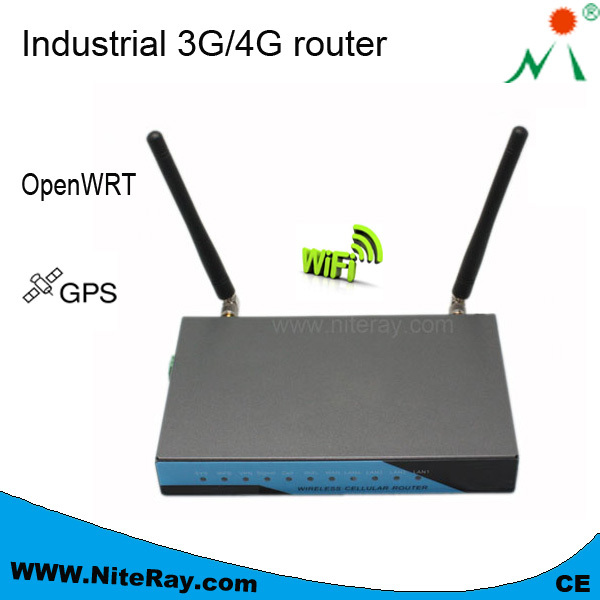 >>|

Wireless router Specificaton
Wireless

Compatible Mobile Networks

UMTS WCDMA (HSUPA/HSDPA/HSPA/HSPA+);

GSM EDGE/ GPRS;

CDMA1x;

CDMA EVDO Rev0, RevA, RevB;

TD-SCDMA/ TD-LTE;

4G LTE (FDD/TDD)

Cellular Frequency

UMITS/HSPA/HSUPA/HSPA/HSPA+ (WCDMA/ FDD); 850/1900/2100MHz,

option for 850/900/1900/2100Mhz/AWS;

3G TS-SCDMA: 2010-2015MHz/ 1880-1920MHz;

Quad-band EGSM 850/900/1800/1900;

CDMA1x/EVDO: 800/1900Mhz, option for 450Mhz;

4G FDD LTE:

Band1-2100Mhz

Band2-1900Mhz

Band3-1800Mhz

Band5-850Mhz

Band7-2600Mhz

Band8-900Mhz

Band12-700Mhz

Band13-700(B13)Mhz

Band17-700(B17)Mh/AWS

Band20-DD800Mhz

4G TDD LTE:

Band40-2300Mh

Band39-1900Mhz

Band38-2600Mhz

Note: 4G LTE is new. There are many different band and frequency.

Please confirm the detailed band and frequency with your carriers before order.

Bandwidth

DC-HSPA+: Downlink 42Mbps, Uplink 5.76Mbps;

HSPA+: Downlink 21Mbps, Uplink 5.76Mbps;

HSPA: Downlink 14.4Mbps, Uplink 5.76Mbps;

HSUPA:Downlink 7.2Mbps,Uplink 5.76Mbos;

HSDPA: Downlink 7.2Mbps, Uplink 384Kbps;

WCDMA/UMTS: Downlink/Uplink 384kbps;

EDGE: Downlink 384Kbps, Uplink 118kbps;

GPRS: Downlink 108kbps, Uplink 42.8kbps;

CDMA1x: Downlink/Uplink 153.6kbps;

CDMA EVDO:

Rev B: 14.7Mbps downlink, 5.4Mbps uplink;

Rev A: 3.1Mbps downlink, 2.4Mbps uplink;

Rev O: 2.4Mbps downlink, 153.6kbps uplink;

4G LTE: Max. 100/150 Mbps downlink, 50Mbps uplink

3G TD-SCDMA: 2.8Mbps

Notes:the bandwidth is peak value,Real value depends on carrier on network support.

Main Fearures and Performance

USB Host

No

DTU

With DTU feature(Srial to Cellular Gateway feature,RS232 DB9 port)

VPN

PPTP, L2TP IPSec, GRE, OpemVpn

OpenWRT

Yes

Static Route

Yes

Wi-Fi(Optional)

802.11;Can choose 54Mbps/150Mbos/300Mbps/450Mbps.

Frequency 2.4Ghz or 5.8Ghz or 2.4Ghz.Support ccess point,

Routers and Gateway Server Applications,wireless up to 254PC user

Log

System log,Kernel log

NTP

Yes

Scheduled Tasks

Yes

LED configuration

Yes

Backup/Restore

Yes

Firmware

Support flash new firmware image
Wake on LAN
Yes

Protocol

Protocol support

TCP, UDP, SMTP, POP, ICMP, FTP, PPP, PPPoE, DHCP, DDNS, DNS, WPS,

DMZ, NAT, xDSL, NTP, QoS,SNMP,RIP

Security

Firewall

Support 64/128 bits WEP, 802.1x, WPA, and WPA2;

Support WDS;

Support WPA1/2-PSK;

Support WPA1/2-802.1x;

Support EZP-TLS, TTLS, LEAP, PEAP, TKIP AES encryption;

Support access with user name & password;

Support access control base WAN/LAN interface;

Support access control base source IP address;

Defense DOS attack, support SYN flooding, IP surfing , ping of Death, fragile, teardrop, land etc;

Support PAP & CHAP;

Support IP filtering;

Advanceed Firewall fFeatures

Network Address Translation(NAT)

Stateful Packet Inspection (SPI)

VPN Pass-through

Media Access Control

CSMA/CA with ACK

Certifications

REDIUS Client

Interface

LAN/WAN

4X 10/100M LAN port (RJ45 interface)

1X 10/100M WAN port (RJ45 interface)

Antenna

2 antenna for Wi-Fi (detachable, SMA interface*1, Internal*1);

2 antenna for Cellular and GPS (detachable, 50Ω SMA female interface), Cellular support diversity receiving (MIMO) option

Led

SYS*1

POW*1

Cell*1

WAN*1

LAN(10/100M)1,2,3,4

WiFi*1

Button

Reset

Console

1 console port

Serial port

DB9 for RS232

IO port (Option)

3

Configuration interface

Web/ Telnet/ SSH/ CLI, support remote management;

At command

Supported

UIM/SIM Card slot

Support 1.8V/3V UIM/SIM Card, one sim card slot

DC Jack

2.5mm DC jack *1;

Power

Power supply

DC5V-50V, typical DC9V1A or 12V 1A, 12V CAR USE;

DC5V-40V is the default, EC5V-50V is the option;

Power consumption

Current:

Idle: 22mA@12VDC;

Max: 208mA@12VDC;

Average: 125mA@12VDC;

Power:

Idle:1.2w@12VDC

Max:2.5w@12VDC

Average:2w@12VDC
Software

Device supply

WEB interface (Internet Explorer v6 or Later; Mozilla Firefox v1.5 or Later, or other Java-enabled Browsers, Chome, Opera, Sarafi)

Minimum System Requirements

Mobile Internet Access Subscription and Internet PC adapter Computer with:

Windows 8,7, Vista, Windows XP SP2, Windows 2000 SP4, or Mac OS, Linux, other OS support internet browser;

CD-ROM Drive;

Network Interface Card;

Physical

Operating Temperature

Storage Temperature:- 40-85 degree;

Working Temperature: -30-75 degree;

Humindity

95% Maximum (Non-condensing)

Dimensions

PCBA: 156mm*104mm*20mm

With case: 168mm*104mm*25mm

Weight

455g (not including the antenna);

550g (including the antenna);

850g (including all accessories, without package);

Color:

Metal Gtay-Balck, OEM is available;

Others

Warranty

1year default. Option extends to 5 years maximum

Package Contents

H860 Series wireless Router;

CAT5e Ethernet Cable;

Power adapter;

Antenna;

Other depends on option features;