Brief introduction the goat slat floor:
We include solid type and slat type, as well as different sizes and shape for choosing, also with the different kind of states. It can be set with cast iron floor. It is the floor system for various kinds of containers, injected from PP, it is smooth and flat, with high tensile strength, good rigidity, anti-aging and anti-corrosion.
The advantaged design made it can interlock by rabbet, which realizes the combination work with cast iron floor. Its convenient to install and easy to clean. Many styles of interlocking plastic floors for nursery pigs according to customers' designs and requirements
Feature of the goat slat floor:
1. Provide a superior farrowing platform.
2. Help pigs have good environment.
3. Effective dung leaking, easy to clean and install.
4. Keep healthy for pigs.
5. Thickening floor, strong compression resistance make it impossible to break by pigling.
6. Different colors can be produced according to customers' requirement.
Main parameter of the goat slat floor:
Size(mm)

Model number

Weight

(kg/pcs)

FOB Price

(USD/pcs)

Package

(pcs/bundle)

300*460

(leak dung)

SLDB01

1.15

5

10

300*600

(leak dung)

SLDB02

1.47

5.5

10

545*460

(leak dung)

SLDB03

1.47

5.5

10

545*600

(leak dung)

SLDB04

1.95

6

10

500*600

(leak dung)

SLDB05

1.95

6

10

500*700

(leak dung)

SLDB06

1.67

5.5

10

600*600

(leak dung)

SLDB07

2.76

8.5

8

600*600

(not leak dung)

SLDB08

2.64

8

8
Detailed Images
Detailed picture of the goat slat floor,if you want to know more,you can contact me.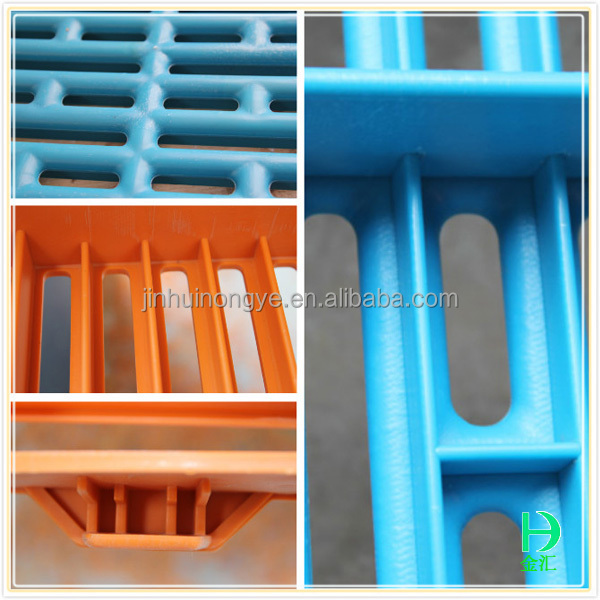 Packaging & Shipping
Standard package was choosen to ensure the safety of the plastic slat floor for poultry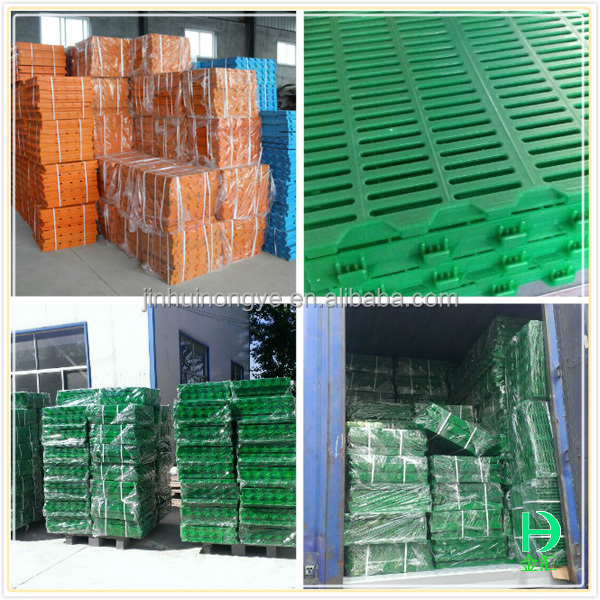 application
Company Information
Zhengzhou Jinhui Agricultural S&T Co.,Ltd. is located in the Central Plains,Zhengzhou City,Henan Province.Our company is a combination of R&D,production and sales as one of the high-tech enterprises. We are specialized in animal raising equipments and major exportors in China.We can provide you with animal cages,automatic feeding and drinking equipments,environmental control equipments,waste treatment facilities and any products that you would need on raising pig,cattle,sheep,chicken and any other livestocks.
We can handle your entire projects from sample to shipping and all projects management for the production runs.At the same time,we can also help you solve the problems in the process of raising animals.
Ascribed to our excellent quality control,best sales services,fast delivery time and competitive price,our products are sold well in America,EU,Africa,South America and Southeast Asia.
Our company has absorbed the international advanced technology and management experience,combining the modern production technologies and manufacturing equipment. Both the quality and appearance of our products have achieved high-quality standards.
So welcome to visit our factory!!!