Product Overview
Description
non woven Geotextile bag /Filament non Woven Geotextile for Environmental protection
Introduction:
Geotextiles are widely used in motorway construction for improvement of tensile-transformation properties of soil basement by reinforcement with geosynthetics. It would be a realistic approach to analyze behavioral properties of the material under recurrent forces, now that such a reinforcement is a dynamic problem. In this study, changes in resistance properties of thin uniform sand soil basement under applied recurrent forces were investigated after reinforcement via various geotextile types. Experiments were performed on sand specimens saturated with water and arranged with a specific relative tightness in the laboratory with torsion shearing gadget with a specific tightness. After a series of experiments under isotropic conditions without drainage, it was observed that randomly distributed geotextile reinforcement significantly increased strength of the soil under dynamic loads.
The fabric can also be heat treated by infrared at customer's requirements. Our geotextile are UV stabilized to give protection against aging under exposure to natural ultra-violet light.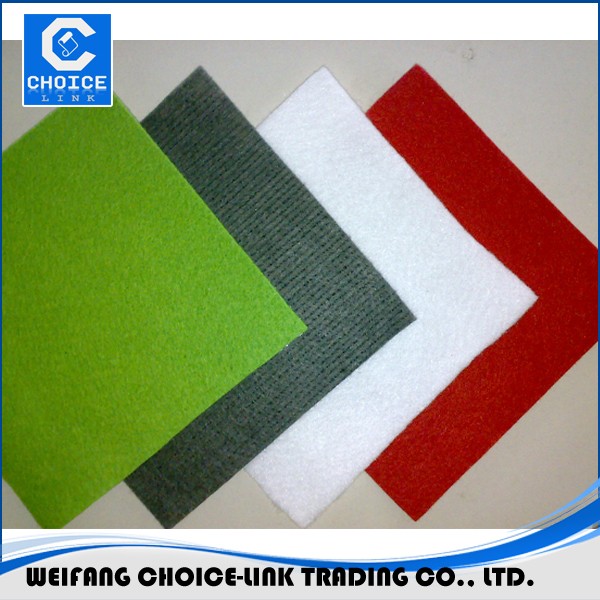 Characteristics:
1.It can effectively make the concentrated stress diffuse, transfer or decompound, and prevent the soil mass against the destruction of outside force.
2.It can prevent the mixture of sandstone, soil mass and concrete of upper and lower layers.
3.Its mesh is hard to jam by virtue of the compliancy and motility of the reticulation formed by indefinite form fibrous tissue.
4.High water permeability-it can keep good water permeability even in the pressure of soil
and water.
5.Corrosion resistant it is made from polypropylene fiber or terylene or other chemical fiber,
featuring resistance to acid and alkali and oxidation, non-corroding, no worm-eaten.
6.Easy construction-low weight, easy operation, simple construction
Function:
The major functions: Separation, filtration, drainage, reinforcement, protection, and liquid barrier.
1.Geotextile has good air and water permeability to let water flow through it so as to effectively control sandrock running-down.
2.Geotextile has good water transmissibility, it can form drainage channels inside soil mass to drain redundant liquid and air out of the soil mass.
3.Geotextile helps to enhance the soil mass' tensile strength and non-deformability and structural
stability so as to improve soil mass quality.
Application Range
Application: It is widely used in the areas of railway, highway, water conservancy, dam, tunnel, subway, environmental protection and so on.
Separation function: Separation of two layers of soil with different soil physical properties, such as road gravel from soft sub-base materials.
Filtration function: Retaining fine particles when water passes from a fine-grained to a coarse grained layer, such as when water flows from a sandy soil into a Geotextile wrapped gravel drain.
Drainage function: To drain liquid or gas in the plane of the fabric which results in draining or venting of the soil, such as a gas vent layer in a landfill cap.
Reinforcement function: Improving the load bearing capacity of a soil structure, such as a high strength Geotextiles to reinforce a retaining wall
Nonwoven geotextile technical datas
item

100

150

200

250

300

350

400

450

500

600

Unit weight tolerance %

-8

-8

-8

-8

-7

-7

-7

-7

-6

-6

Thickness ≥mm

0.9

1.3

1.7

2.1

2.4

2.7

3.0

3.3

3.6

4.1

MD/CD break strength ≥kN/m

2.5

4.5

6.5

8.0

9.5

11.0

12.5

14.0

16.0

19.0

CBR burst strength ≥kN

0.3

0.6

0.9

1.2

1.5

1.8

2.1

2.4

2.7

3.2

MD/CD Tearing strength ≥kN

0.08

0.12

0.16

0.20

0.24

0.28

0.33

0.38

0.42

0.46

Width tolerance%

-0.5

MD/CD Elongation %

25-100

EOS O90, mm

0.07-0.2

Vertical permeability coefficient, cm/s

Kx(10-1-10-3)K=1.0-9.9
Contact Us
Certificates: