Peaking Focus Assist
The Peaking Filter is used to aid the camera operator in obtaining the sharpest possible picture. When activated, the internal processor will display a colored highlight on the screen where sharp edges appear. It's shows Red highlight over parts of the monochrome image in focus.

Brightness Histogram
The Brightness Histogram is a quantitative tool to check the picture brightness.The feature shows the distribution of brightness in an image as graph of brightness along the horizontal axis (Left:Dark, Right:Bright) and a stack of the number of pixels at each level of brightness along the vertical axis.
False Colors
The False Color filter is used to aid in the setting of camera exposure. As the camera Iris is adjusted, elements of the image will change color based on the luminance or brightness values. This enables proper exposure to be achieved without the use of costly, complicated external test equipment.

Exposure (zebras)
The Exposure is used to assist in exposure adjustment in the mode of Zebra Pattern, it is considered overexposed and displays the moving warning lines onto the over exposed areas.
Check Field
Check Field is an assistant function to adjust camera color settings. Under the check field mode, you can use red, green, blue or mono pixels to generate the image, because hue and saturation can be adjusted more quickly and accurately in this environment.

Camera Mode Function
It will be full screen under camera mode.

Center Marker & Safe Marker
Safe Mark for View Finding and Composition (80%, 85%, 90%, 93%, 96%,2.35:1)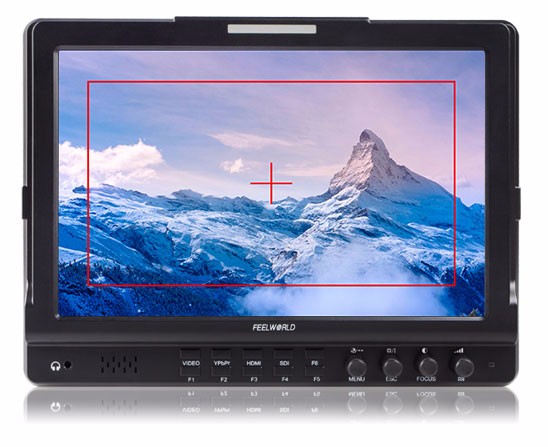 Company Information
Founded in 2009, Shenzhen Feelworld Technology Co., Ltd is a technical manufacturer, who owns the R&D base and the production base separately in Shenzhen, Guangdong and Zhangzhou, Fujian. The main products include; embedded Industrial PCs, industrial LCD monitors, metal open-frame industrial resistive/capacitive touchscreen monitors, USB monitors, FPV monitors, HDMI/SDI photography monitors, studio/broadcasting monitors, and so on. Now there are totally at least 50 software engineers, hardware engineers and structure engineers in Feelworld. Every year, at least 10 new monitors are designed and launched into the market. The customers also can ask to design and produce the customized products according to their needs.